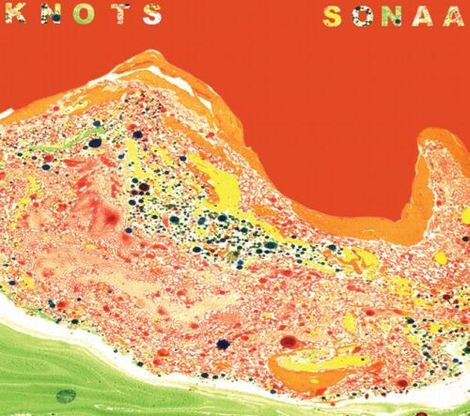 SONS OF NOEL AND ADRIAN "THE KNOTS"
Non so fino a che punto l'estetica della una copertina di un album possa influenzare la decisione di acquistarlo od anche solo ascoltare la preview di 60 secondi su iTunes, per quanto mi riguarda, moltissimo! Oltre che dare una percezione del suo contenuto, in qualche modo bisogna pur adottare dei criteri per sfoltire la costante massa di dischi in uscita. Detto ciò, ammetto che se non avessi già ascoltato (ed apprezzato) il primo full-lenght dei "Sons of Noel and Adrian", con una copertina del genere probabilmente non sarei ricorsa nememno alla preview... Mi da l'idea di un preparato istologico (biopsia), effettuato con coloranti andati a male da un sacco di tempo; tessuto epiteliale pluristratificato in superficie (in arancione), che poggia su una lamina basale (in bianco) ed al di sotto tessuto connettivo inframezzato da tessuto ghiandolare, quello in verde mi sembra tessuto muscolare liscio...vabbè, il criterio selettivo sulla copertina non è valido, l'album al contrario è molto piacevole.
I "Sons of Noel and Adrian" sono un collettivo di Brighton fondato nel 2008 da Jacob Richardson alla voce e chitarra (che sarebbe il figlio di Noel) e dal chitarrista Tom Cowan (figlio di Adrian), collettivo formato da 12 elementi in gran parte polistrumentisti (violoncello, chitarre acustiche, violino, piano, clarinetto, banjo, percussioni), e già membri delle band accompagnatrici nei tour di Laura Marling e Munford & Sons.
La voce di Richardson è di per se un elemento caratteristico, espressiva, soggetta a continue modulazioni, oscura e profonda, ma a questa si aggiunge la parte strumentale che non si limita ad un ruolo di accompagnamento; ogni brano (quasi tutti potenziali singoli) è caratterizzato anche da continue evoluzioni ritmiche e crescendi orchestrali piuttosto complessi.
"The Knots" è la loro seconda pubblicazione dopo l'esordio nel 2009 con un album omonimo, e gli stessi Sons of Noel and Adrian lo riassumono più o meno così:
"Il primo brano parla di nonni, il secondo di gravidanze ed adolescenti, il terzo del corso della vita, il quarto di abusi alcolici, il quinto di divorzio, il sesto di salute mentale, l'ottavo di incendi dolosi ed il nono di amore. L'intero album dura 2598 secondi"
...null'altro da aggiungere! :)
Qui
"The Yard"
"Matthew"
"Come Run Fun Stella Baby Mother of the World"
Buon Ascolto! :)